So I'll start with, I'm super grateful my little sister Deangela thought her big sis was cool enough to roll out with her to Houston's very own summer par-tay, Free Press Summer Fest last weekend. It was set for June 3rd-4th from 11am until around midnight-ish each night at Eleanor Tinsley Park but as you might have read, while following my tweets, Mother Nature had other plans. It sucks because the line up was pretty cool too. It consisted of local acts like DJ Fredster and Khruangbin to nationally recognized artists like Solange Knowles, Charlie XCX and G-Eazy.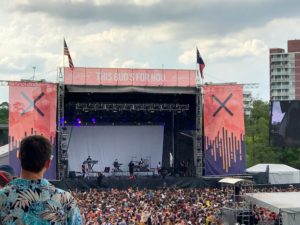 As soon as we stepped out of our Lyft, we felt rain. I immediately grabbed for my poncho, and yes… it was only sprinkling. I didn't care. While walking up to the entrance, we annoyingly sang a couple rounds of  the most appropriate song for the weather… "Bad and Boujee", affectionally known to me as "Rain drop, drop top." And so it begun…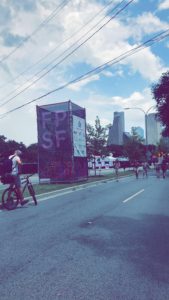 In predictable festival fashion, everyone had their own version of the uniform. There was body glitter, shirtless bros, tanks, net stockings, Jurassic Park hats, backpacks, several variations of Jaden Smith, Yonce' body suits with an extra side of cellulite on the side, and all the jiggly bits from up-top to down-below ready to be tanned and admired by college kids aka toddlers (ok they were like 18 but whatever). Let's just say it was interesting and I felt like a dinosaur. We opted for the "happy to be here folks, this is how we normally dress" option. It didn't go viral or anything but hey, nothing fell out (if you get my drift).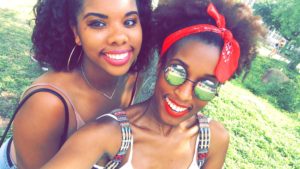 So after actually entering the gates of the festival, we saw a Taco Bell truck and a village or Port-O-Potties we swore to never step foot in. As we walked, we eyed a variety of trendy food trucks and bars lined up to perfection. They definitely wanted to make sure you were full in more ways the one. I never got to actually hit the merch area but it was there, tucked away between the food. The park was beautiful and hot. It literally felt like being in a greenhouse with the sun set right over you in every direction you might try to escape. After baking for a few minutes, we walked underneath a canopy of trees and heard DJ Fredster who was definitely killing it. His energy and music was that of something you'd hear spin in Vegas. The crowd was a little bit more grown up and super chill so naturally I asked for wine… and I found it. They had $9 baby cups of Chardonnay ready, along with a few other well drinks and cocktails for their grown and sexy bunch. Walking back, a kid (literally like 15 or 16) asked me to buy him a beer. I looked at him, took my sips and we went off in search of my buddies Khruangbin who were about to start their set.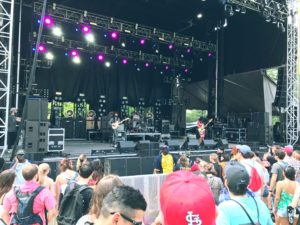 I was so proud to see Mark and DJ. Their performance was full of funk, soul, and experimental sound. It was inviting and felt familiar. The crowd ignored the broiling sun and danced all over the lawn of the Saturn stage. It was just downright fun and a solid impression for folks like my little sister who were experiencing them for the first time. I'd definitely recommend you taking a listen if you're into old school vibey instrumentation.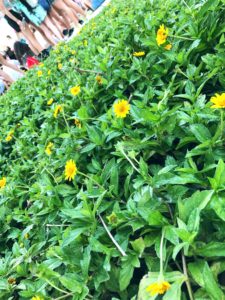 It was after Khruangbin's set when I saw a huge rush of people headed to the Neptune stage. I'm a bit of a wanderer so I yelled for my sister to follow the crowd. Best decision ever. We heard the drop for DJ Mr. Rogers of 93.7 The Beat and knew it was about to get crazy. The crowd jumped and dived all over each other. I eventually found a small field with flowers and trees (ok… yes shade, there was shade) and went for it. You would have to, it was hot!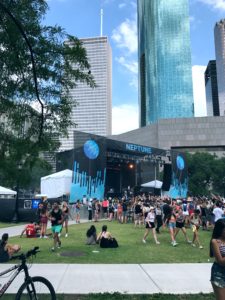 They rapped every single lyric he played and then the main dude, Trill Sammy, came out with his entourage shooting huge water guns for the hyped and thirsting crowd. They. Went. Crazy. I mean like Kanye West just declared his run for presidency on MTV again, crazy. Mind you, we (my sister and I) don't know this guy at all, but instinctively knew we were supposed to be partying like we were at a frat house before the cops came. Speaking of cops, they were there saving folks left and right. For future notice kids…don't do drugs, drink, and jump around on each other in sweltering 90 degree weather. You will fall out and possibly get arrested for possession. That's a thing.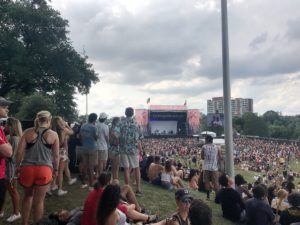 Anywho… the afternoon went on and we were getting hungry so we stopped by the main stage to check out another act, Jon Bellion. He has quite a few radio hits under his belt and was definitely fun to watch. The set had good energy and a massive crowd so it was definitely cool. I will probably check out more of his music this week. He wasn't too bad at all and had some really catchy tunes with nice tracks backing him. Towards the end of his performance, we went ahead and called a Lyft. Dee snapped this shot on our way out…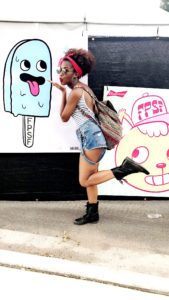 We had perfect timing because this is when the sky decided to unfold and shut down the festival for a few hours. But guess who was inside, eating nachos/tamales, and drinking margaritas in the nice air-conditioned restaurant? Deangela and me, that's who! Clearly we're the kind of girls to go glamping. Don't ask  us to stay outside for extended periods of time. And my logic was, if we were going to suffer in Houston's humidity, we might as well be happy about it. Back on track here, El Tiempo did not disappoint. We ate, talked and waited for them to open the fest back up to catch G-Eazy. It was night and crazy humid/muddy, so no pics of that. Sorry. But you can check out my delicious plate!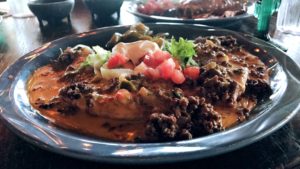 So fast forward to day 2. We were SO excited because this is when all of the more popular pop acts were going to perform. But guess what… some kind of monsoon happened in the late afternoon and shut down the remainder of the festival. There were barely any updates so we remained hopeful for a few hours until we got the notice that they would be "cancelling the rest of the performances due to the inclement weather." Sigh… So this was our day two… Two sisters, pitifully siting at home, on the couch waiting to hear the news that the shows we dressed to attend weren't happening.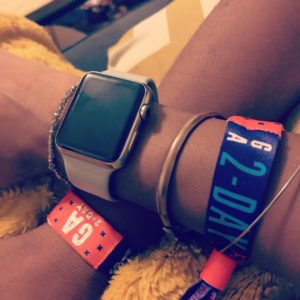 Overall we had a good time and enjoyed each other's company. We had fun at the performances we were able to catch and were happy we got to slow down and catch up on each other's lives. So there it is… my first time at Free Press Summer Fest. <3
-D.Wright